Post by WT on May 16, 2009 1:36:15 GMT 12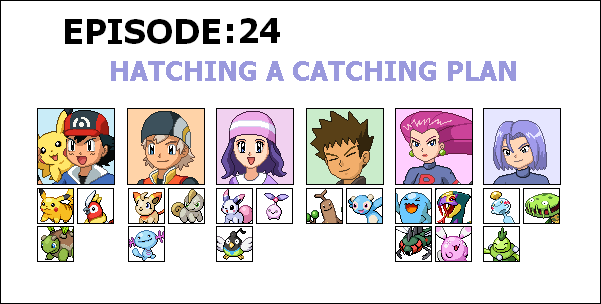 The Next 3 Stories:
Episode 25: Stone, Rock And Steel
Episode 26: Attack Of The Raging Lake Monster!
Episode 27: The Grass Needs Ground To Grow!
Episode 24: Hatching A Catching Plan
After the events that took place in Thundrome Pass the group are now making their way to Rustbolt City for Ash and Cole to have their gym battles.
The group are making there way along a path with Ella holding the Pokemon egg she found, "I wonder what this egg will hatch into" she says, "We'll it could be anything" Brock says, "I've had a pokemon egg before" Ash says, "I have as well" Brock says, "You have?" Cole and Ella both say, Ash has a flashback to when his had an egg in the Johto region "Yeah I did, when it hatched, it hatched into a Phanpy" Ash says, "Then it went on to evolve into a Donphan", "Wow" Cole says, "And you Brock?" Ella asks, "Well I won a dress up competition in the Sinnoh region with my Croagunk, and the prize was a Pokemon Egg, it later hatched into a Happiny" Brock says, "That's so cool!" Ella says, "I wonder when my egg will hatch and what it will be" she says rubbing the egg.
The group comes to a clearing that has a picnic table, "Is anyone hungry?" Brock asks, "Always!" Cole says, just then a flash of light comes from Cole's belt, "Wooper!" Wooper says "Looks like Wooper's hungry too" Ash says and the group all smile.
Some time afterwards the group are eating, with all their pokemon out eating too, Ella cleans the egg with a cloth, "There you go!" she says, "All nice and clean!"
"Ella if you carry on like this, that egg will hatch in no time" Brock says, "Well I'm stuffed!" Ash say, he looks at Pikachu, Mawclaw and Herovor who are lying on the ground with full bellies, "Haha" Ash laughs, "Looks like we need to work it off" Ash says, "Come on!" he says jumping up, "Lets do some training, our gym battle is right around the corner!"
Ella looks at Pruddy and Lavenseed also lying on the ground with full bellies, "Looks like we need to work it off too" she says, Ella looks at Cole who is lying on the ground with Purrlit, Toron and Wooper, "Cole are you going to do some training?" she asks him, "Na I think we'll relax a little" he says,
Brock give Ella a blanket, "Here wrap up the egg to keep it warm, I'll watch it while you train" Brock says, "Thanks Brock" Ella says wrapping up the egg, and hands it to Brock, "Lets go!" she says to Pruddy and Lavenseed.
Ash gets to training with Pikachu, Mawclaw and Herovor, he sets up some targets on a tree, "Lets train on hitting targets" he says, "Pikachu you first" Ash says Pikachu stands ready, "use Iron Tail" Pikachu runs up and its tail starts glowing, it swings it and strikes the target smashing it to pieces, "Good shot Pikachu" Ash says, "Now Herovor your next" Herovor steps up, "Lets try a Razor Leaf" he says, Herovor releases a wave of spinning leafs at the target, but it misses, "Its okay Herovor, we'll try again" Ash says, Herovor tries again, "Lets try another Razor Leaf" Herovor does it again, and misses again, "Just focus Herovor" Ash says, Herovor ignores Ash and runs up to the target and uses a Headbutt attack on it, breaking it to pieces, Herovor smiles because if hit the target "Herovor I didn't tell you to attack yet" Ash says, Herovor looks at Ash wondering what it did wrong, "We'll at least you hit the target" he says, "Mawclaw your next" he says, Mawclaw flies up into the air, "Alright Mawclaw use Diamond Darts!" Ash calls out, Mawclaw flaps its wing and diamond shaped lights come shooting down and strike the last target breaking it into pieces, "That was awesome guys!" Ash says with a smile on his face.
Brock is clearing away the picnic table while Sudowoodo and Moonky play, and the Pokemon egg sits on the seat wrapped up with the top of the egg showing, Brock turns his back on the egg and the egg starts glowing, he turns back and the egg stops, "Huh?" Brock says to himself, he looks at the egg but nothing happens, so it shrugs it off, he turns his back again and it glows again then stops.
Cole is training with his Pokemon using a Frisbee as they try and keep it in the air, Purrlit hits the Frisbee with its Iron Tail, it flies over to Toron who hits it with a Headbutt attack over to Wooper who hits it with a water gun, "That was great guys" he says to his pokemon.
Ella, Pruddy and Lavenseed do some attack combinations, Pruddy using a Swift attack into the sky and then using Glamorize to great sparkles, Lavenseed uses Razor Leaf and fires a Bullet seed at the leafs causing little bursts, "We're getting better and better at this" Ella says to Pruddy and Lavenseed.
Ella walks up to the Pokemon egg and picks it up, "Soon we will have another contestant with us" she says with a smile.
Meanwhile Team Rocket is watching the group through the bushes while eating a rice ball each, "Should we go in for the attack now?" Meowth says, "Are you crazy?" Jesse says as Lophug hugs her head, "They have all their pokemon out, if we go in for the attack, they'll just send us blasting off" she says, "Good point" James says, "We'll get their pokemon when the time is right" she says,
Ella unwraps the pokemon egg and Team Rocket see it, "is that a pokemon egg the girl twerp is holding?" James says, "Looks like it" Meowth says,
Ella hugs the egg and it starts glowing again, "Wh…What's happening?" Ella says, the boys look over to her, and see the egg glowing, "Looks like the egg is close to hatching" Brock says, as the egg glows and stops, "Wow that's great!" Ella says,
"Yeah that's great for me" Jesse says from the bushes to James and Meowth, "Why's that?" James asks,
"Because we are going to steal that Pokemon egg, and once it hatches I'll catch it straight away!" Jesse says, "How come you get to catch it!" James says, "Cause I thought of it!" Jesse says, and Team Rocket goes off to plan their attack.
Ella holds the egg as the glowing gets closer and closer together, "I think it's going to hatch very soon" Ash says, "I can't wait!" Ella says, "Ella, remember when it hatches you gotta catch it straight away" Brock says, "Okay I will" Ella says, "We'll be ready!" she says.
It's starting to get late in the day and the group decide to setup for the night, Ash, Brock and Cole fall asleep as Ella hugs her Pokemon egg as she falls asleep, when the group are fast asleep, Team Rocket sneak into their camp site dressed as ninjas, "You two get Pikachu while I get the egg" Jesse whisper to James and Meowth, James and Meowth sneak up to Ash and Pikachu and throw a bag over Pikachu and pick it up without waking it up, and they sneak off, Jesse gets a rock and quickly switches the egg with the rock and they quickly make a run for it, Ella hugs the egg but she notices the difference, "What's going on?" She says waking up to see a rock "MY EGG!" she shouts, the boys wake up and look at her, "What's going on Ella" Cole says, "My egg! Its gone!" she says, Ash looks around, "Pikachu?" he says, "Pikachu where are you!" Ash shouts, Brock notices footprints leading away from the campsite, he sees 2 pairs of human footprints and Pokemon footprints, "These look familiar" he says, "Yeah I think we know who did this" he says, "Team Rocket!" the group all say, Ash lets Mawclaw out of its pokeball to help search for Team Rocket, and Cole lets out Purrlit to help sniff them out, "Come on guys lets get Pikachu and Ella's egg back!" Ash says and the run off towards the direction Team Rocket ran off to.
Meanwhile Team Rocket are making their way and Jesse puts the Pokemon egg in with Pikachu, "When Pikachu wakes up and realizes where it is, it would be crazy to try and attack with the egg in the bag with it" she says, just then Pikachu wakes up in the bag and sees the egg and realizes where it is, "Ah, ah Pikachu you don't want to hurt the pokemon in the egg do you?" James says carrying the bag, Pikachu stops and starts to worry and starts calling out, "What's it saying Meowth?" Jesse asks, and Meowth says, "Pikachu's saying that we won't get away with this" "Sorry to say Pikachu but we already have!" James says and they all laugh.
The group are searching for Team Rocket and calling out for Pikachu, "Pikachu can you hear me!" Ash shouts out, Cole and Purrlit lead the group while Purrlit sniffs the ground, "Any luck Cole?" Ella asks, "no, not yet" he says,
"Mawclaw fly up higher and see if you can see anything" Ash says, Mawclaw flies up higher and looks around, and it sees Team Rocket coming to a bridge, "MAW!" Mawclaw says, "I think Mawclaw found them!" Brock says, "Pikachu we're coming!" Ash says as the group run to where Mawclaw is flying.
Team Rocket comes to the bridge and start walking over it, Pikachu, in the bag sees the egg glowing even more strongly, "Pika?" it says is wonder, Jesse notices the egg glowing, "Its about to hatch!" she says pulling it out of the bag, Pikachu quickly makes a dive out of it and runs away, the group finally reach Team Rocket, "Team Rocket!" they shout, "Give me back my pokemon egg" Ella says, "Come and get it!" Jesse says, Ella pulls out a Pokeball and sends out Pruddy, "Oh I'll get it!" she says, Jesse pulls out a Pokeball and throws it, and out come Lophug, instead of jumping into battle it jumps onto Jesses face and hugs her, "Get off me!" she says pulling Lophug off her, "Attack Pruddy!" she says, "Swift Pruddy!" Ella says, Pruddy swings its tail releasing a wave of stars at Lophug, "Lophug use Bounce!" Jesse says, Lophug jumps onto its tail and then bounces into the air causing the swift attack to hit the bridge causing it to break, the bridge starts shaking and breaks apart causing Team Rocket and the egg to fall into the rushing river below, Team Rocket fall, Jesse lets go of the egg "No!" Ella says, she jumps off the edge and catches the egg and Team Rocket and Ella fall into the raging river and get swept away "Ella!" the boys say, "Help!" she says, the boys chase them down the river, but the river is going too fast and the boys lose sight of Ella and Team Rocket.
Team Rocket hold onto each other as the go down the river, James throws out 2 pokeballs and Carnivine ad Solshrub come out on the river side, "Help us!" James says, Carnivine and Solshrub use Vine Whip to grab onto Team Rocket, Carnivine grabs Jesse and James and Solshrub grabs Meowth and Lophug, Ella drifts by holding onto the egg, she grabs onto a rock sticking out of the side of the river bank and pulls herself up, she quickly checks the egg to see if its okay, it doesn't move or glow and she gets worried, but then it glows again, "Oh thank goodness" she says, Team Rocket see her and Jesse shouts, "Give me that Pokemon egg!" "No, this is my egg!" she says, "Fine I'll make you give it to me!" Jesse says throwing out 2 pokeballs out and out comes Seviper and Yanmega, Ella realizes that she is out numbered, and Lavenseed pops out of its pokeball, "Lavenseed" Ella says and Lavenseed stands to protect her, and Team Rocket laugh, "Your little Lavenseed against all of out Pokemon" Jesse says and they start laughing again, "We'll try" Ella says, "Get em'!" James says, "Seviper use Poison Tail, Yanmega use Sonic Boom, Lophug use Double Slap!" Jesse says, Seviper, Yanmega and Lophug go in to attack, Ella hugs onto the egg, suddenly a swift attack stops Team Rockets Pokemon in their tracks, Ella looks up to see the boys and Pruddy, "Are you okay Ella!" Cole says, "Yeah I'm fine!" she says, Team Rocket get ready to battle again, "I'm getting tired of you guys always bugging us" Ella says, "Guys…" Ella says to the boys, and they smile, "Go!" the group shout, Pruddy uses Swift, Lavenseed uses Razor leaf, Purrlit uses Ember and Pikachu uses Thunder, all of the attack combine and it hits Team Rocket causing an explosion making them blast off.
Team Rocket goes flying through the air "I was so close!" Jesse says as Lophug still hugs her, "Always close, but always so far" James says, "We're blasting off again!" they all say as they disappear into the sky as a sparkle of light.
"YAY!" the group cheer, Ella thanks the boys for saving her, "No problem" Ash says, Ella smiles and the egg starts glowing again, this time the glow is different, its more brighter, "Ella I think the egg is hatching now!" Brock says, "What…now!" She says, she holds the egg in front of her as it glows and starts forming into a pokemon, the egg grows and stops glowing, Ella holds before her a small black pokemon with little white wings and a green and blue pattern on it, "What pokemon is that?" Cole says pulling out his pokedex,
"Tweetot, the Tweet Pokemon, Tweetot spend their time in nests in trees mimicking the sounds it hears around it"
"So the egg was a Tweetot" Brock says, Ella looks at Tweetot and smiles at it, it looks back at her and smiles back, "Welcome to the world Tweetot" she says, and pulls a pokeball out of her pocket and enlarges it and taps the ball on its head sucking it inside, she holds the pokeball as is rocks back and forth and stops, "Congratulations Ella" Ash says, "Thanks Ash" she says, she lets Tweetot out of its pokeball and introduces Tweetot to Pruddy and Lavenseed, Tweetot is happy to meet them and it starts to flutter in the air, "Oh that's so cute!" Ella says with hearts in her eyes, "Looks like Tweetot was perfect for you then" Ash says and they all laugh.