Post by Tao on Jan 22, 2019 3:30:25 GMT 12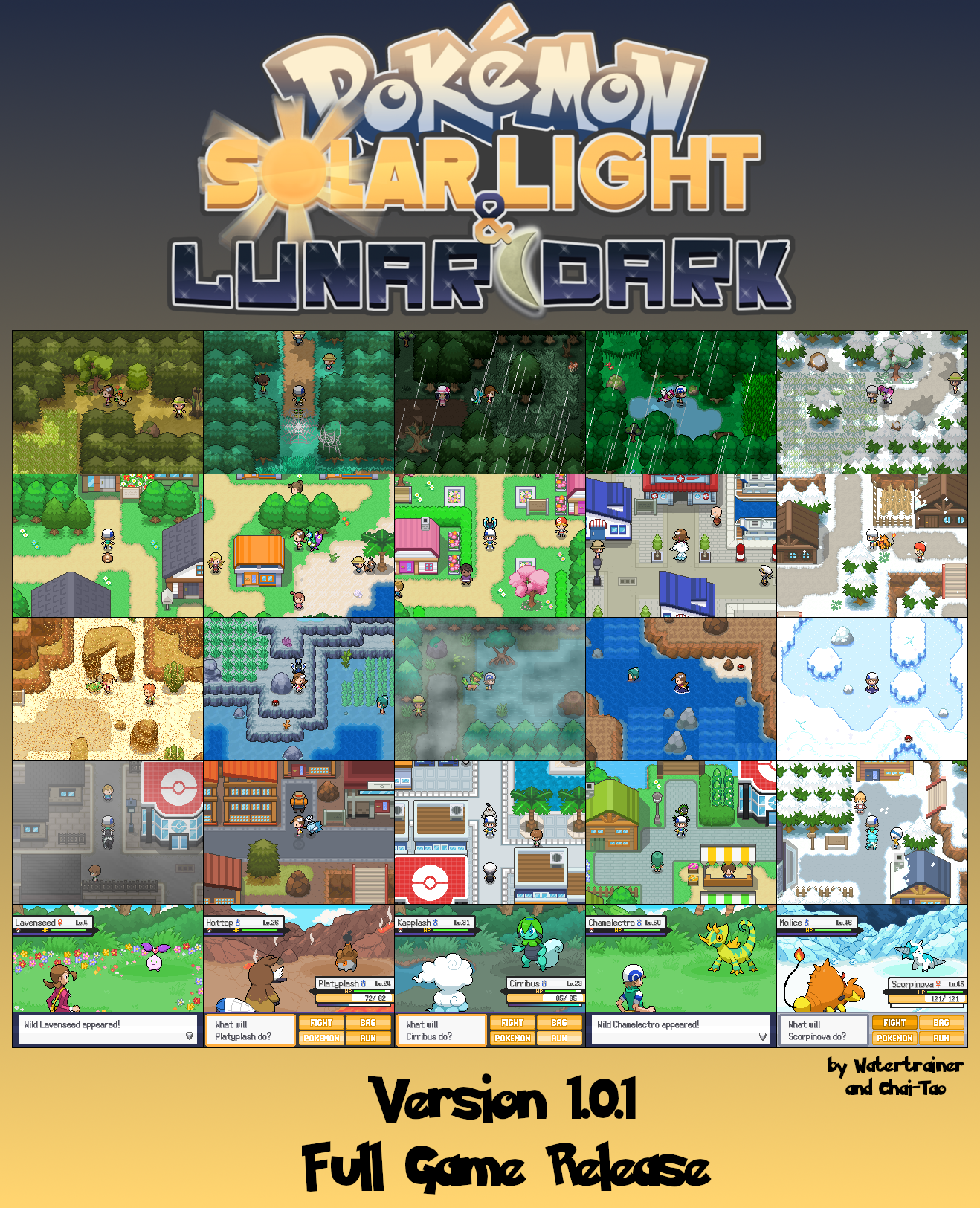 It's done, the full game of Pokémon Solar Light & Lunar Dark is released!
The V1 was a bit Buggy, so we needed a bit time to fixed that stuff, but this Version, 1.0.1, works now (sure here and there can be some small Bugs, but no game crashing or soft locking)
You can download it here:
www.deviantart.com/users/outgoing?http://www.mediafire.com/file/eki8zfakm66as1i/PokmonSolarLightLunarDark1.0.1.zip.html
Please note, that our wiki isn't up to date, we will work on this.
For more informations, you can join our Discord Server discord.gg/5aGFdMr
Have fun!
Greetz Tao, Watertrainer and the team!
F.A.Q.
Can I play with my old savefile from V1?
Yes, you can. just copy/paste it in the savedgames folder of the new version (mostly under the direction of /SavedGames).
It could be possible that there is the need for you to toggle some Switches/Variables to get all events working. If that's so please contact me, send me your savefile and I will fix it for you.
Can I play with a savefile form one of the Demo, for example Demo 5.0.2?
No, the savefiles of demos doesn't work on the final version because of very much changes.
My shinies are not shinies anymore!?
Mhh... Yes, unfortunately Pokémon Essentials, the program used to create this game, doesn't save the shinieness for every Pokémon by itself and it depends on the whole shiny rate.
We changed the shiny rate, not to the one we had in mind first, but doubling the one of V1 to 1/128, so may some of your caught/bred shinies are gone. Sorry for that, but the rate is still very good, so you will find many of them.
Do Mega Evolution work now?
Yes, the file is in the game folder now, so they work.
Do the trainers in Frosthail Forest and Route 18 still crash the game?
No, this was also because of the missing file, because these trainers use Pokémon who have forms.
Is the door in Goldune Gym now possible to open?
Yes, just leave the gym and come back, this turns a switch which was needed to set the door back.
I still can't walk over the Bridge on Route 16?!
Go back to Docking Port and then try again, it should work now.
Route 20 Gateway leads to Crestlight City Gateway!?
Yes, a teleport problem. Please just use the middle entrance of the gateway on Route 20 . This one leads you correclty to Route 20 Gateway.
Where is the graphix folder now!?
It's are gone. That's how we wanted it in the first release too, but it hasn't work. Now I've found a way to compress it correctly and you can't see the graphics anymore. Except the animation folder, this one was to big to compress.
My female character has still the male sprite in the battle!
Yes, you need to reset the trainertype. For this, please go into your house and in your room and click on the wardrobe on the left of your PC.
That should reset your trainertype back to the female one if your player Character was the female one.
Will there be future updates?
If there is the need of fixing a game breaking bug, yes, I will fix it as soon as possible. If we talk about rebalancing or added ingame stuff, there will be one, but not in the next months.
I need a break, the last month was very exhausting for me because I worked every free minute on this game. So just let me take a breath.
Are there changes to the first released Version?
Yes, here is the list:
Leaf Darts has a new effect and is Physical
Rainbow Reef has slightly changed to take out the sidestairs
Dragonic Bloom and Dragonic Glow are now Physical
All Dragonic Moves flags have changed
Marcus Pokemon are +1 level
Baawool now learns Hyper Voice at 44
Iggle now evolves in 44 and Iglow at 54 like it's listened on the sheet
Scorpinova now has its starting moves
Venom Drench should work now only on poisoned opponents
Goldune Gym door is set back after leaving the gym
Strength now only works after receiving Strength Gloves
Service Whistle is now working after beating the Lighthouse Keeper
Mega Evoltion works now
Forms working now, and with this, the trainers on Route 18 and Frosthail Forest
There are now Shinies Icons for every Pokémon
A new title Screen (by Trainer Cord) representing the legendaries of the game